fitness
2021 Auburn Half Marathon
Not my first trail half marathon, but probably the most difficult. And yeah, I signed up for another one...
On October 9th, I ran Brazen Racing's inaugural half marathon in Auburn, CA. Auburn is in the foothills of the Sierra Nevada mountains, surrounded by parks,  pine forests, and plenty of single-track trails.  The town bills itself as the "Endurance Capital of the World" because so many athletic events are held in the area.  They even have an Endurance Capital Committee with a semi-promotional blog that lists past and upcoming events.  I signed up for this race earlier this year because the terrain reminded me of Ragnar Trail Tahoe, one of my favorite events ever.  I've done 12 to 13 mile training runs and ran the San Jose Rock-n-Roll half marathon a few years back, so I felt reasonably confident that I could do the distance.  Looking at the elevation map, though, I got the idea that it might be challenging from a climbing perspective.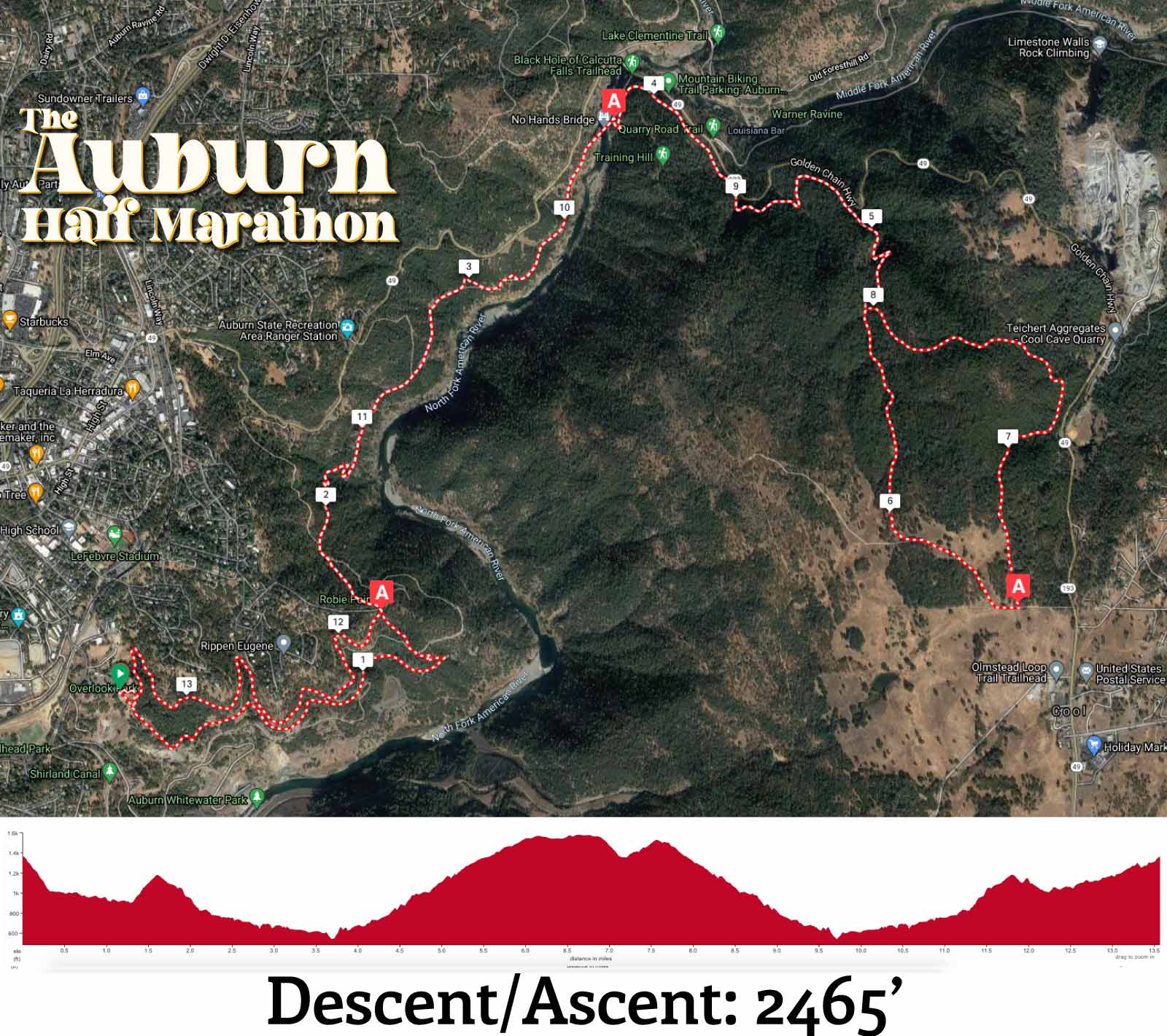 We took the travel trailer up to Camp Lotus, a gorgeous campground on the South Fork of the American River.  The park is home to a flock of Canadian geese and some wild turkeys as well as a number of guides from river rafting companies.  On Saturday morning, we woke up early and drove to Overland Park in Auburn, the start of the race.  Proving once again that we live in a small world, we found ourselves parked next to a couple from Santa Cruz, one of whom Heather had worked with in her previous job.
I felt like there weren't many runners in the starting corral for the half, maybe due to COVID or possibly the distance or difficulty of the race.  I liked the vibe, though: I saw runners with a wide range of ages and (apparent) fitness levels, and the Brazen Racing team was organized, friendly, and efficient.  The starting horn blew and we all funneled down into a single-file line and hit the initial steep descent.  I was impressed by how considerate all the runners were, especially during those first few miles where we were traveling through narrow paths and passing was difficult.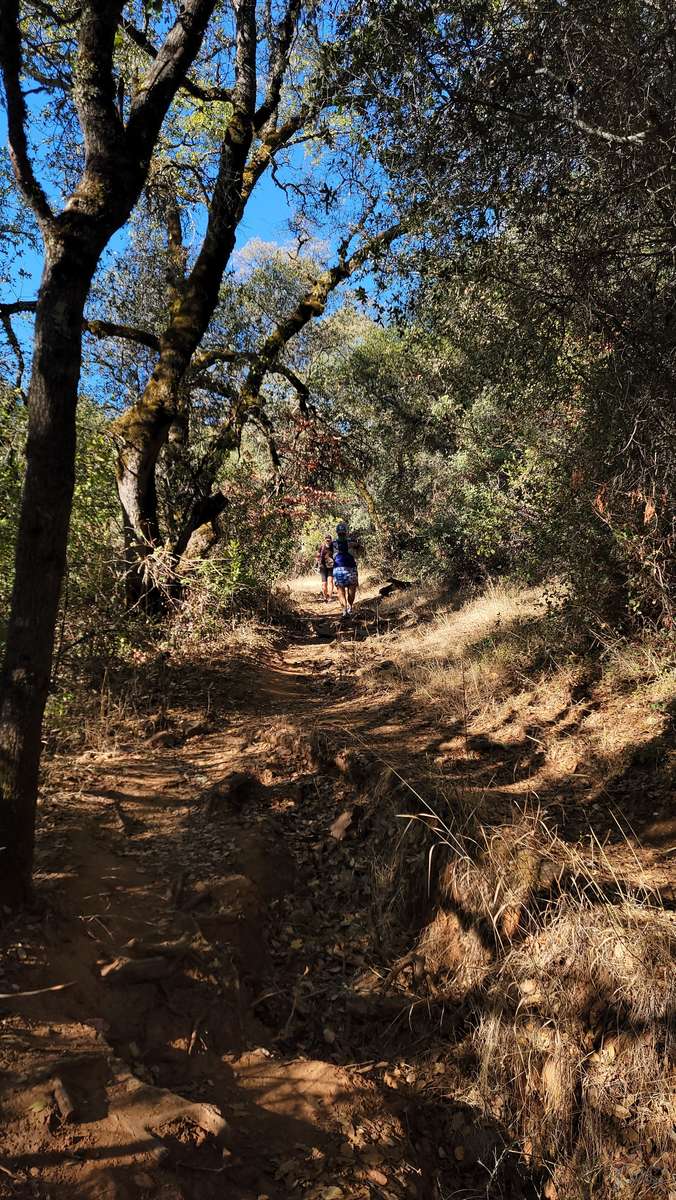 We wound our way down the ravine towards the North Fork of the American River.  There was plenty of technical single-track downhills interspersed with wider fire roads.  I felt very relaxed and strong for the first four miles.  After mile 4, the trail crossed the river and started climbing up the other side of the valley.  That's when things started getting tough and, not coincidentally, when I started hiking.  Hiking and walking was part of my plan for getting through the run so I didn't feel demoralized by my new, slow pace, especially when I saw all the other runners hiking as well.  I didn't get to run consistently until the mile 6 marker when the path flattened out through the turnaround. Between miles 7 and 8, I had to hike again for a bit, but after that I enjoyed a long, glorious downhill back to the river.
Crossing the river on the return, I knew that I was in for a challenge.  I was able to jog-walk up until about the mile 11 marker, and after that there was basically no more running to be done.  My quads were burning and the trail felt like it was getting steeper by the minute.  The mile splits in the table below really tell the story of the race:
| Distance | Pace (min/mi) |
| --- | --- |
| Mile 1 | 11'27" |
| Mile 2 | 12'11" |
| Mile 3 | 9'49" |
| Mile 4 | 10'21" |
| Mile 5 | 13'57" |
| Mile 6 | 14'20" |
| Mile 7 | 11'22" |
| Mile 8 | 12'28" |
| Mile 9 | 9'53" |
| Mile 10 | 10'43" |
| Mile 11 | 12'11" |
| Mile 12 | 16'54" |
| Mile 13 | 17'05" |
| Mile 14 | 11'27" |
I kept moving forward, though, and jogged over the finish line with a time of 2:49:33.  My goal was to come in under three hours, so I was stoked!  I scarfed down a sandwich that Heather brought me, some trail mix, and an It's It bar (the signature post-race treat at Brazen events), then checked the results board.  I had come in 33rd overall, but that didn't have much significance to me since I didn't know how many people had run the race.  We said our goodbyes to our Santa Cruz friends and left to get some food.
Later that afternoon, I checked the race results page and saw that there were a total of 80 runners who finished.  33rd out of 80?  I'll take that!  Then I pulled up my age group: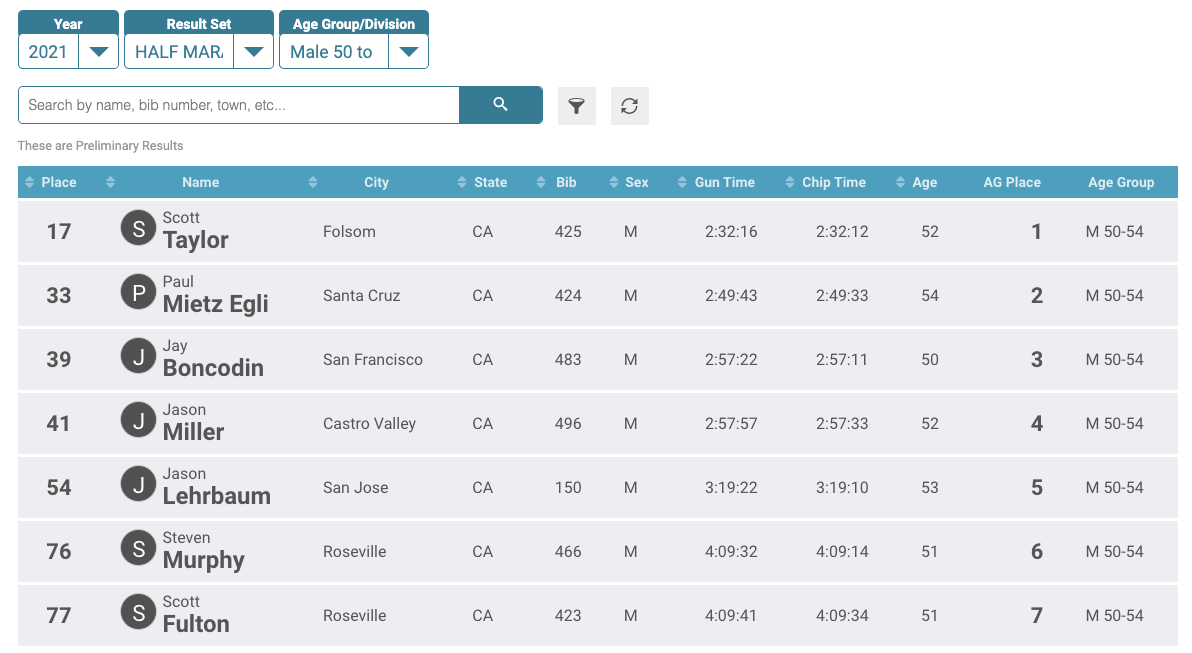 I have never placed in my age group in any event I've done since maybe high school track.  I thought I was stoked to finish in under three hours; you can imagine how I felt when I saw these results.  That elation might explain what I did next, which was sign up for the Summit Rock Half Marathon on December 10th.  It's practically in my back yard, only has about 400' more climbing than Auburn, and it's up and down, not see-saw like the one I just did.  See, Brazen has an Ultra Half series where if you run six half marathons with a ton of climbing, you get a special coaster medal...  Ok, I admit it, I'm hooked.