travel
Trailer camping in Paso Robles
We recently took the travel trailer (which we have nicknamed "Jenny" – you have to say it out loud in the Forrest Gump voice) down to the Paso Robles area for a long weekend of wine tasting with our friends Julie and Josh.  Shortly after buying our trailer, we signed up for Harvest Hosts, a network of wineries, breweries, farms, and attractions that invite RVers to stay on their land in exchange for patronizing their businesses.  Stay for free and drink wine?  Seemed like a no-brainer to us. If it sounds like fun to you, too, there's a referral link at the bottom of this post. :)
We started our trip in San Ardo, a small farming community north of Paso, by visiting 43 Ranch, an olive farm and oil press facility right off Highway 101.  Greg, one of the owners, met us at the mill, helped us fill up our fresh water tank, then guided us up a dirt road to our camping location high up in the hills. The spots are very large, open circles that are far from the sounds of the freeway and big enough to accommodate larger groups of people.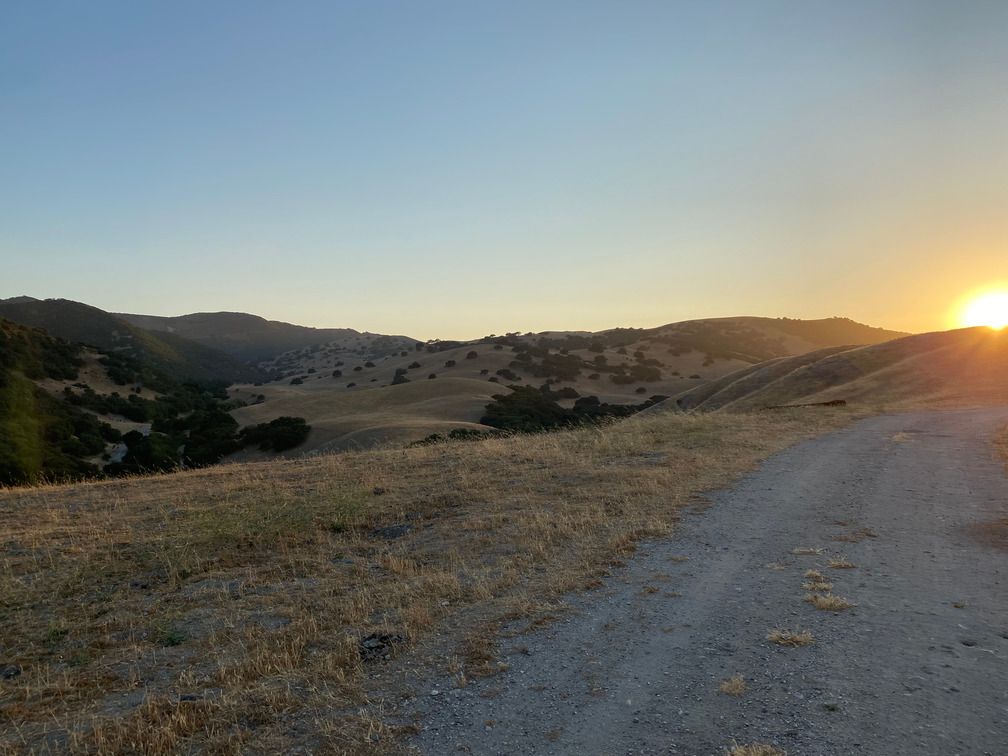 As you can see, summers are dry and warm in Central California, so we didn't get lush greenery. We did see a bald eagle, though, and we had a great view of the stars and Milky Way after dark. The next day, Greg gave us a tour of his olive press house. The tour was very interesting and we learned a lot about the different grades of olive oil and the difference between cooking and finishing oil. After Greg explained the pressing process, he walked us through a tasting of their award-winning oils, which was also a new and fun experience.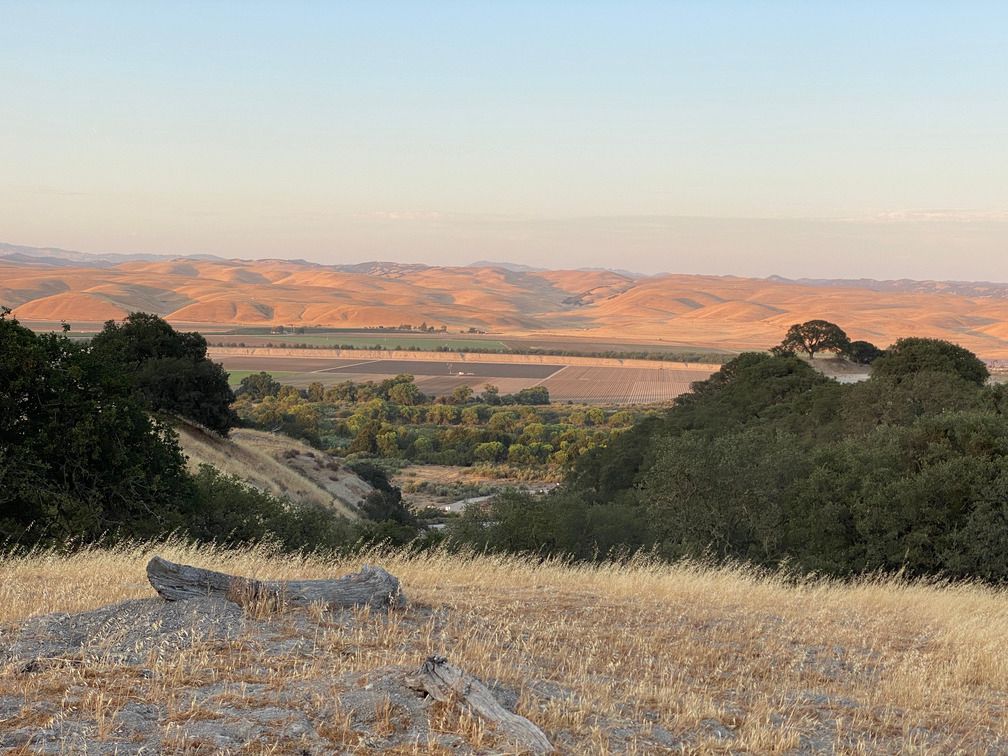 As we packed up the next day, the temperature crept up and up. When we left our campsite around noon, the car showed a temperature of 116 F!  We discovered that our generator doesn't have the ability to run the A/C in the trailer and that the fridge has a hard time keeping cool in high outdoor temperatures, so we have a couple of things to work out before we camp in hot weather again.
From 43 Ranch, we drove down to Four Lanterns Winery in Paso Robles, our second Harvest Hosts location. They have two sites located under a beautiful oak tree next to the vineyard.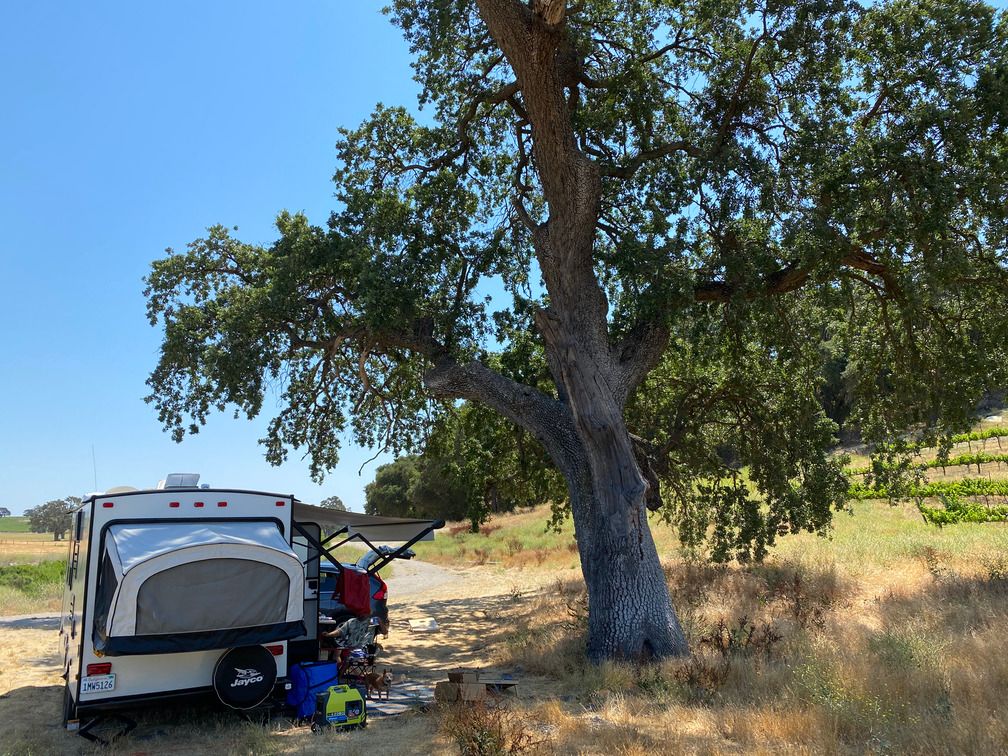 After we got settled in, we headed on over to the tasting room.  The heat was oppressive.  Josh and Julie found an outdoor hose and used that to cool off when we weren't being observed.  In spite of the uncomfortable weather, we ended up having a really great time at Four Lanterns. Our server, Mary, took excellent care of us and even put up with our crabby little dog. We enjoyed all of the wines we tasted -- the rose and champagne were particularly refreshing. On the day we visited, a team of chefs was serving Mediterranean-inspired food, and one of them stopped by our table to give us an appetizer to try. Steve, one of the owners and the winemaker, chatted with us for some time and generously shared his reserve Merlot, which was excellent.  Also, you can't beat the experience of camping next to a vineyard.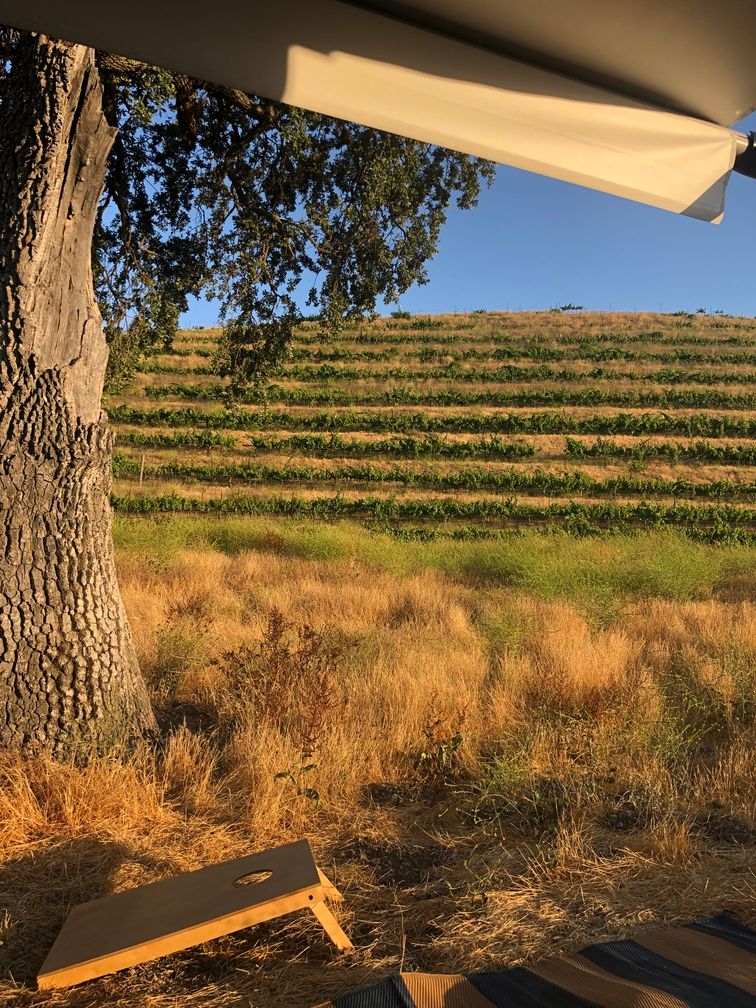 Despite the heat, we had a great weekend and look forward to our next trip in Jenny the Jayco.